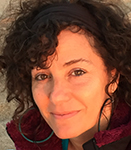 The Infinity Healing Practice, created by Gabrielli LaChiara, is a body of teachings, tools, and activations that allow people to experience profound shifts in consciousness, creating greater ease and lightness in the body, mind and spirit.
Are you ready to discover your body's natural ability to experience joy, ease, and bliss amidst the complexities of the human existence?
By combining energy healing and neural-science, Gabrielli continues to discover pathways that ignite and inspire the natural and organic phenomena of healing. It's a paradigm shift. Gabrielli offers a different perspective that enlightens and challenges every day thinking. Her insight and wisdom have inspired these teachings as tool box for living alive!

"Healing itself is a natural phenomenon; what it takes to release ourselves into our nature that deeply and intimately is a huge question!" Gabrielli
After over a decade of facilitating private sessions, Gabrielli was encouraged and asked by her clients to "teach what she does." With the support and guidance of friend and colleague, Lori Friedman, the Infinity Healing Training Program was created. This was the beginning of an incredible journey of discovery into what it takes to teach subtle energy healing, intuition, and facilitated awareness. Together, Gabrielli and Lori, lead Infinity Healing Training Programs throughout the United States. 
We invite you to experience Infinity Healing through private or group sessions, workshops, teleclasses, and/or trainings that engage the body and mind in a mystical yet practical journey of healing, awakening, and enlivening.