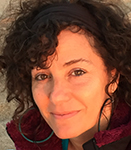 Remarkable! Magical! Pure Joy!
These are words used to describe a session with Gabrielli.
Using her own unique blend of intuition, energetic healing, and neural science techniques – which she calls the Infinity Healing Practice – Gabrielli will guide you on your journey to discover your essence and access your own knowing to help heal a range of issues, from physical pain to emotional wounds. Gabrielli's approach addresses issues on the physical, emotional, mental, and spiritual planes, and provides clients with lasting healing.